Weddings are one of the most exciting times in a couple's life, next to having children and buying their first house together. Everyone wants the wedding to go perfectly, with all of their guests invited and having a great time. In addition, organizing the wedding, choosing the venue, selecting the meal, the entertainment, and making sure everyone knows what they are supposed to do on the day of the wedding takes a great deal of effort.
Deciding on whom to include as wedding guests is a major challenge for most brides and grooms and their families. Often there is a limit to the total number that can be invited based on the budget for the wedding. Whom do you invite, and whom do you exclude? You may invite some to the dinner and reception afterward and others only to the reception. It is difficult to keep everyone happy without offending someone, including your new in-laws.
Using a wedding guest template is one method of taking control of the guest list.
What is a Wedding Guest List?
The wedding guest list is the list of all of the people the bride and groom, along with the parents, wish to invite to the wedding. However, the guest list can grow very quickly unless guidelines regarding who is invited and who gets to make decisions regarding the list. Family politics play a large part regarding who is added to the list along with the budget for the wedding.
Every guest will expect dinner to be provided, perhaps a free bar and hors d'oeuvres before dinner. The number of guests attending will also determine the size of the venue, so it is important to have some idea of how many people will be attending before picking the venue.
Unless you have an unlimited budget, decisions will need to be made regarding who to invite and those to exclude. Some rules or guidelines can be used to help decide who to keep on the final wedding list and who should be left off. We will cover these guidelines in more detail later in this post.
Your wedding guest list should include those people you would like to attend the most exciting day of your life. Some names will be crossed off due to an inability to attend for personal reasons. Your final list will drive all of your plans and much of the cost.
What Is a Wedding Guest List Template?
A wedding guest list template is a useful tool to keep track of all of the information you need about each guest you plan to invite. A standard template will include columns for brides and grooms to enter information and details associated with the guests they are inviting. Every wedding has special situations and information that may need to be collected. For example, while the bride and groom are not expected to pay for hotel rooms, they might negotiate a group rate for their guests. Asking if their guests need accommodation is one way to make it much easier for everyone to stay at the same location and pay a reasonable price for hotel rooms.
There are many templates available for brides and grooms to consider to help them organize their wedding day and make their lives easier to enjoy their special day.
Essential Elements of a Wedding Guest List Template
The following are the essential elements of a wedding guest list template; however, every wedding is unique. Feel free to add or delete columns based on your plans for your wedding. For example, if this is an adult-only wedding, then the column for children can be removed. If you need to provide the local hotel with a group list to help negotiate a group deal, you may want to ask if attendees will need a room at their expense.
Name of guest
Name of spouse, partner, or plus 1
Children – names of each
Relationship – family, friend, relative, business associate, etc
Address
Email
Phone number
Invite sent
RSVP replied
Meal choices
Song requests
Gift (to help with thankyou notes)
Thankyou note sent
Wedding Guest List Templates & Examples
---
Wedding Guest List Template (Excel)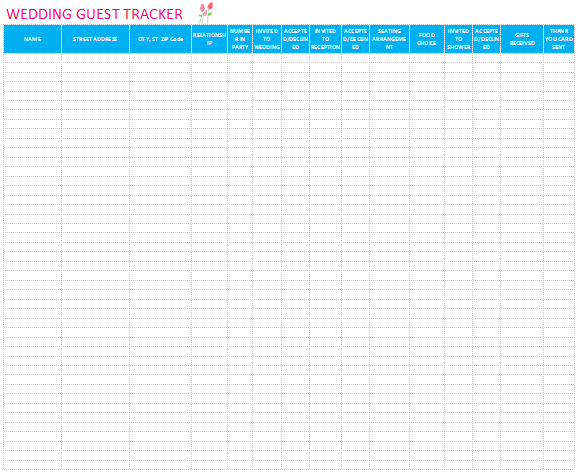 ---
Wedding Guest List Template (Word)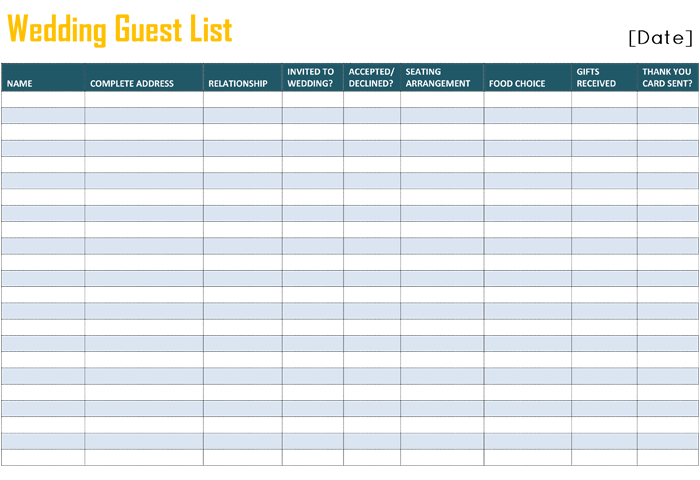 ---
Simple Wedding Guest List Template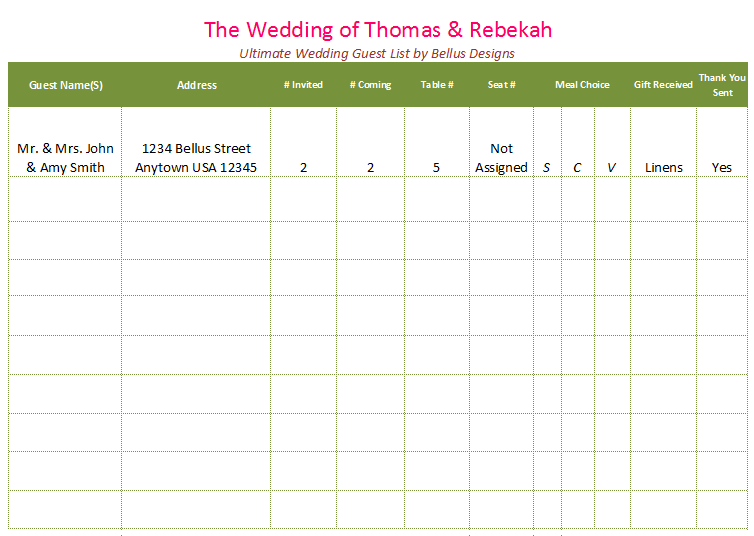 ---
Tips for Making Your Wedding Guest List Template
There is no need to invite everyone to your big day. Invite only the people you value, family, close friends, and special guests. There is an easy way to pair down your list without causing a lot of drama and stress for you and your partner as well as the parents. The following are a few of the tips to consider to make your special day one of the best.
Finalize your guest list before choosing a venue. If you select a venue that only can accommodate 80 people and your guest list has ballooned to 130, you may have to make some difficult decisions regarding who should be removed from your invitation list. Many people prepare a preliminary list soon after getting engaged to help in the venue selection process.
Budget is at the top of every bride and groom's priority list. If your parents are helping out, have a discussion with them regarding how much they wish to spend and how much you may want to add. The venue and the number of guests attending determine a large part of the total cost. Don't forget there are also the decorations and the honeymoon after to be paid for. Once you know your budget, the cost of the venue, and the number of guests you want to invite, make decisions regarding adding to the budget or pairing down the invitation list.
At every wedding, there are people who you and your partner want to be at the wedding. Immediate family, close friends, and others you may decide you must have at the wedding. Don't forget to discuss your priority invitation list with the parents, especially if they are helping out with the cost of the wedding. They may have some people they want to have on the list as well. Depending on your list, the numbers could range from 15 people to as many as 50. Based on your budget, you can quickly calculate how many added guests can be invited.
Create B and C lists of people you are considering inviting. Extended family members and friends, business clients, children, plus ones, and others that may find their way onto the list. Choose carefully from these lists to round out the total number of guests to be invited.
People to Cross Off Your Wedding Guest List Template
There is always a balance between those folks you want to have at your wedding, the budget, and satisfying family dynamics. If you must reduce the invitation list to a manageable number, several criteria can be used carefully. Remember this is your special day, and you want everything to be perfect while meeting your budget. Depending on your priorities and those of your parents and in-laws, here are a few ideas about who to take off the list to bring your guest list and budget under control:
Consider removing family members you have not seen in years. Although it would be nice to have a family reunion of sorts at your wedding, this day is your day, and you really should have only those people you would like to have in attendance.
We all feel obligated to invite every person whose wedding we ever attended. In many cases, it might have been years since you attended the wedding, and you are not close to these people. Consider removing them from the list. On the other hand, if you attended someone's wedding in the past year, you probably should try to include them.
You may have been close friends in school; however, once everyone started their careers, moved away, or just went their separate ways, they are no longer considered close friends. Consider removing them from the list.
A few of the folks on your invitation list may be single. It is customary to extend an invitation to their plus-ones, even if you have never met them. Consider asking your single friends to come on their own to your wedding, especially if you have never met their plus ones.
It is really difficult to disinvite children of the family and your friends. However, the children can add a huge cost to your total budget. Consider not inviting the kids unless they are in the wedding party, I.e., ring bearer or flower girl. Many parents will look at this as a night out without the kids and having a nice time.
Many people feel they should invite their neighbors. If you are uncomfortable or are trying to control the budget, let your close neighbors know that you are keeping the celebration small and limited to family to avoid any awkwardness between you and the neighbors.
Some people may have a negative track record at weddings. They drink too much or become unruly during weddings or at bars. You may want to consider removing them from your list or assigning someone to manage them during your wedding.
Don'ts of a Wedding Guest List
You are excited about being engaged and the upcoming wedding. The tendency is to tell everyone, and the bride shows off her new engagement ring to family, neighbors, friends, and coworkers. They all may expect an invitation, but of course, once you start your guest list and assess your budget, reality may set in. Prematurely indicating to someone that they will be invited to the wedding can lead to embarrassment later when they do not receive an invitation. Avoid making verbal invites until you have finalized your budget and your list.
Friends and family will be very excited for you and look forward to the wedding and the party afterward. They may suggest inviting their friends and other people that you know and love; however, this is your day and your budget. Be polite but firm and stick to your wedding guest rules. Once you allow one person to be invited that does not fit the rules, the floodgates will open, and many others will be added to the list.
Match your invitation list to your venue. Over-inviting blows your budget, overwhelms the venue, and creates frustration for many people. You want everything to go perfectly on your special day, so be firm about the guest list.
Never feel guilty about not inviting everyone. You should have your nearest and dearest friends and family at your wedding.
One of the best ways to control who attends is to include the names of the invitees on the RSVP cards. It leaves no doubt about who is invited and who will be attending. Avoid using terms such as "no plus ones" or "no kids invited". These terms do not go over well with your guests.
FAQs
The following are a few of the frequently asked questions many new brides and grooms have as they plan and organize one of the most exciting and important days of their lives.
What percentage of wedding guests attend?
There is no easy answer since it depends on the relationship of the family with all of the guests, how far they have to travel, and other special circumstances. For example, the pandemic changed weddings significantly, with some being canceled or delayed while others went ahead in a more intimate setting with only immediate family attending.
 
Some experts suggest that 85% of local guests will attend, 55% of out-of-town guests, and only 35% will attend a destination wedding. These numbers tend to apply to larger weddings. Small intimate weddings may have near 100% attendance. Even those who do not attend may still send a wedding gift. Your wedding guest list should track these gifts and help you remember to send thankyou notes.
How many wedding guests is normal?
The Brides American Wedding study from 2018 found that the average number of wedding guests is 167 and most weddings have less than 200 wedding guests attending.
Is 150 guests a big wedding?
 Although 150 is slightly below the average of 167, it is still a large wedding when the costs of venues and meals are factored in. The cost of a wedding has grown exponentially in recent years. Regardless of who is paying, proper planning, factoring in wedding guest lists, venue size, and budget is a must to ensure the special day is the best day for the happy couple.
Is it normal to invite your ex?
This is a difficult question for most people. The answer may be a quick NO if their attendance will be a source of tension; however, in some situations, it may be quite acceptable to have your Ex in attendance. For example, if you are friends now and he or she is in your friend group, and your new spouse is comfortable with them attending, it may be ok.They probably should be left off the guest list if you are trying to make them jealous. There are too many unresolved issues, and the tension could mar your special day.
 
Maybe you just don't feel right about having them attend. After all, there is usually a great deal of emotional baggage associated with many breakups. Don't ruin your day if you are going to be continually worried about them attending.
 
The most important suggestion is to make sure that your new spouse is on board with an ex attending and your immediate family is supportive. For example, if you and your ex are on good terms but your parents still hold bad feelings towards your ex, it might not be a great idea to invite him or her.
Weddings are a celebration of two people coming together in matrimony with all their hopes and dreams ahead of them. A well-planned wedding that comes off without a hitch contributes to many fond memories of the special event.

Start by matching the wedding guest list with the venue and the budget available for the wedding. Include immediate families in the planning to avoid disappointments about some people not being invited. Be firm about who should attend and who should not, although family politics must be managed in many situations.

Avoid verbally inviting people to your wedding before the venue, guest list, and budget have been established. You may find that some of the folks you verbally invited may not be able to be on the guestlist due to the size limits of the wedding imposed by venues and budget.

Avoiding controversy will help to avoid incidents that could mar your special day. Only invite exes if you are on excellent terms and their attendance is not going to generate controversy. You may want to leave the person with a history of drinking too much and causing scenes off your list.

Above all, this is your special day. Put lots of effort into planning your day and the wedding guest list is one of the most important elements to focus on.