There are many reasons individuals and companies make donations to charities. They range from wanting to try to help others in the community to someone in another country who does not have the same privileges as they do. After donating, they feel good about themselves. They have at least done their little bit to help others in need. Brand recognition is also for many major companies.
Some individuals and companies need tax deductions and want to add to their brand reputation as someone who is there to help their community. They feel that by adding positive news, they will increase their brand value and increase loyalty from their customers.
This post is aimed at the charities and those collecting donations. Helping them track, recognize and manage donations made to their organization will assist in their success as a charitable organization supporting whatever their cause.
What is a Donation List?
At the simplest level, a donation list is a list of the consumers and corporations that have made donations to your cause. The list should include all of the basics:
Name
Date
Amount
Address
Tax receipt sent (if applicable)
More sophisticated donation lists will track additional information about the donation. Did they want to be placed on a mailing list, do they wish to see where their money is being spent, would they be candidates to volunteer their time and many more categories.
The charity can use the donation list to help them manage the donation program, track fundraising results and make reports to their sponsors and board members. These factors are very important to help manage expectations and report their success in raising funds for each fundraising initiative.
What Is a Donation List Template?
Charitable organizations routinely receive donations from donors, which they track every time a donation is made. They also run special events around holidays and disasters since these are some of the best times consumers feel they should help in some small manner.
A donation list template is handy to call on when setting up a new event, and you need to keep track of the donations and any details pertinent to the person donating. Some groups will refer to these templates as donation list templates, while others might use the term donation tracker template. In both cases, the template is saved as a template form. When a new donation plan is being developed, they will take the template, rename it to the name of the event and use it to track all of the donations. It will contain all of the details associated with the person or organization providing the donation and provide a means of totaling the amounts given. The organizing charity can provide a running total to those that need to know about how well the fundraiser is doing.
The donation list template or the donation list tracker template are fully customizable to allow charities to adjust them to fit the objectives of their organization and the objectives of a particular fundraising program.
What is a Donation Tracker?
As we mention in the previous section, a donation tracker or donation list is often referred to as being the same document. The donation tracker is used to keep track of all donations, the details of the person or company donating, and whether a tax statement needs to be issued along with other follow-up activities.
The donation tracker provides an ongoing total of all of the donations to date and can be summarized by a fundraising program to help assess how well the charity is doing. Many fundraisers report this type of information every hour to help spur donors to contribute to the cause.
Donation & Fundraiser Tracker Templates
---
Donor List Template
---
Donation List (Excel)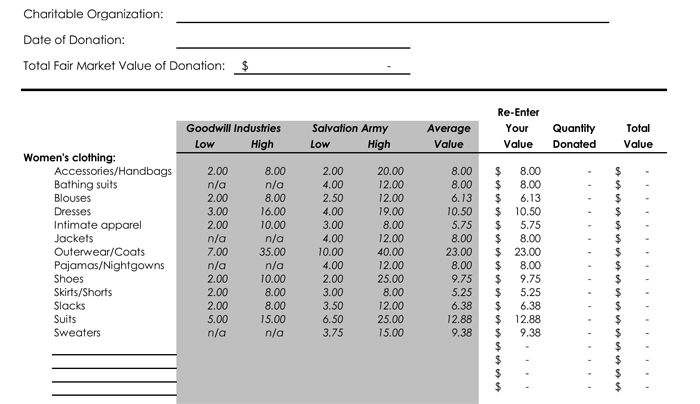 ---
Checklist for Donors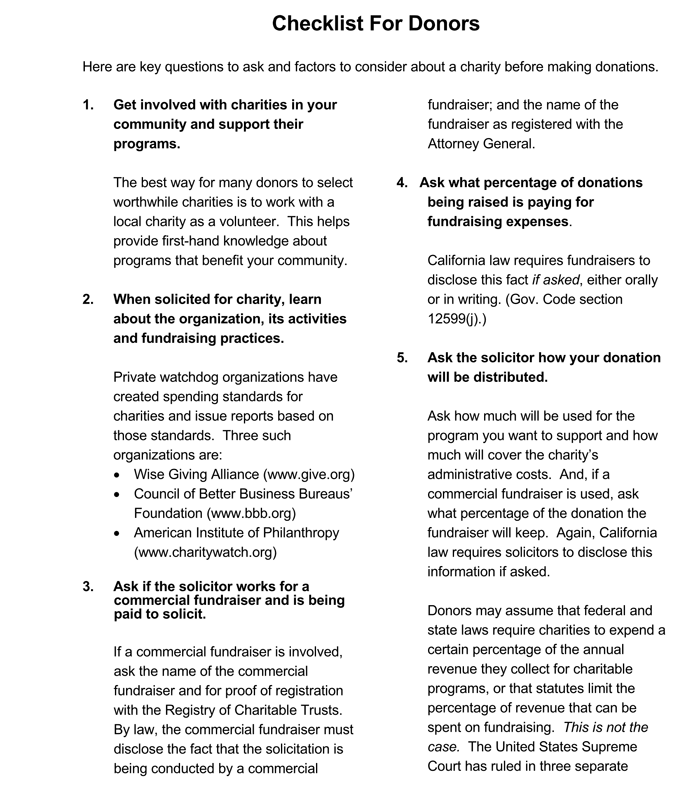 ---
Benefits of a Donation Tracker
Many people in our society derive great pleasure from making donations to various charities. This feeling has been around for ages and is still strong today. There are many charities to choose from, and consumers find charities that support causes they feel strongly about.
However, sending a donation to some address and never hearing back can be a turn-off for many people. Charities have learned that the person donating wants to be recognized for their donation. Often a simple thank you letter will suffice to indicate how their donation has helped whatever cause they stand for.
This is also an opportunity for the charity to alert the consumer of future programs and how further donations may help their organization provide more assistance to those in need.
Using a donation tracker that identifies the consumer, their donation, their address details, and the number of times they have donated is a tremendous tool used in raising additional funds. Providing tax receipts is another important feature for registered charities, which supports the entire fundraising program.
Finally, the donation list tracker can be summarized on a fundraising program level as well as at the full charity level to provide management with insight regarding how well a fundraising program is doing and how the overall charity is doing.
How to Track the Donations?
Charities need to track the donations they receive for several different reasons, and a donation tracker is one way to keep everything straight, especially a tracker that allows you to be total and subtotal across many different categories.
Many people who donate also want to receive a tax donation receipt to allow them to claim their income taxes. It is important to track the donations you have issued tax documents to consumers.
The charity management team needs to understand how much money has been donated and to which categories. Some donations will specify specific programs, while others will leave it up to management. How much money was received in cash with no specific person attached to the donation vs. by check or credit card? Have recognition letters been sent to individuals providing their names and addresses? Are they candidates for future charity programs?
Items donated may need to be assigned a value, and they may need to be properly evaluated before they can officially be recorded on the books. Another item to track!
Maintain electronic copies of all documents, including your tracker, and make a backup copy daily that is stored in a separate physical server.
FAQs
The following are a few of the frequently asked questions that many people need answers to.
How do you make a donor list?
Finding a donor list template and customizing it for your organization is often the easy part for many people. If you are in charge of fundraising at your organization, locate a template online that is close to what you believe you need, make sure you can customize it, and save it as your organization's template. Label it `as a template. Make a copy and save it under another name associated with the current fundraising program.
 
Next comes the difficult part for many people. Develop your major donor list. Source names from past fundraising efforts and spend time contacting them explaining your new program and how their contributions will help your organization achieve its important goals. Don't forget to ask them to suggest others who might be interested in donating. Build your list and spend time networking with them. They want to be recognized for their contributions, especially corporations who want their brand associated with positive news around charitable events and assisting the community.
Should you list donors on your website?
Not everyone or every company wants to be listed publicly on a website or in an annual report. They prefer to keep their names private, yet they can be some of your largest contributors. Before listing a donor's name in a public medium, always ensure that you have their permission. Be prepared to indicate how they will be listed.
 
Their brand reputation is very important to them, and while they are willing to provide financial support to your charity, they may also want to control the narrative to protect their brand. Your donation list template should have a column indicating the status of each contributor with regards to being listed on your website, the annual report, and if there are any special requirements, i.e., they need to approve the wording, pictures, etc.
Do I need to keep track of donations?
The short answer is YES. Earlier in this post, we listed some of the many reasons donations should be tracked. E.g., tax reporting, fundraising success, donor recognition, donor lists for future fundraisers, etc.
What is the hardest kind of donation to keep track of?
In-kind gifts and services donated to charities are difficult to place a value on and keep track of them as well. For example, a company indicates they will donate 10 hours of their time or their employee's time. What is that time worth, and how do you manage what the person does? There may be insurance liabilities as well to consider.
 
Donating a gift is also a challenge. What is the gift worth? How is the value established, and how do you dispose of the gift to generate funds that can be used to support your charity's endeavors and goals? Many groups add these items to a fundraising auction; whatever the amount that is paid for the item at the auction establishes the value.
Donation list templates and donation tracker templates are extremely useful tools for charities to use and manage fundraising campaigns. Each fundraiser may be a little different, requiring customization of the template to meet your needs; however, using the templates saves a great deal of time for the person in charge.Donation lists and trackers can be used to help the charity in many ways. A few are listed below:
Tabulating results from the fundraiser in dollars for management
Keeping a list of donors that can be used for future fundraisers
Tracking who needs a tax statement at year-end for their contribution
Analyzing donors by category and support levels
Identifying those donors you should pay attention to due to their significant contribution
Once you have your donation list established, network with your donors. Make them feel good about their contribution. Ask them if they want to be recognized on your website or annual report. Not everyone does, so make sure you have their permission before listing them; otherwise, you will need to list them in the anonymous category. The company's brand reputation is critical to its success.