Whether you are looking to start a new catering business or scale up your current one, setting catering prices is one of the most significant challenges. Prices are the make or break of a business, coupled with good food.
How do you keep your prices at the market rate? How do you ensure you profitably operate while attracting new clients? We answer all your questions through our catering price list guide.
What Is A Catering Price List?
A catering price list is a complete sheet detailing the scope of service and cost of a caterer. Although the restaurant can provide both, a catering sheet differs from a menu sheet. A catering list is custom specific for a group of people with custom prices, while a menu list takes a one size fits all approach.
What Is A Catering Price List Template?
A catering price list template simplifies the catering sheet preparation process. In its simplest form, a catering list template contains blank sections for the food prices, entrée, delivery and setup fee, overhead costs, and other charges involved in catering for the group.
There are different types of templates depending on the caterer's needs. But a catering price list template should contain some essentials that guarantee a proper working environment and professional relationship between the caterer and the event organizers.
Essential Elements of a Catering Price List Template
At the minimum, any good price list template should contain the following:
Business logo
Contact person information
Menu to be served
Alternatives or substitutions
Brief descriptions of the food
Prices
Labor costs
Cost of serving equipment
Venue
Catering style
Specific details
A catering list template only serves as a pointer to what you should include in the final list. Catering events are unique, and you may need to make some changes to your template. Always ensure you capture what feels essential to you. A quick tip is if you can set a price for it, document it.
Catering Menu Template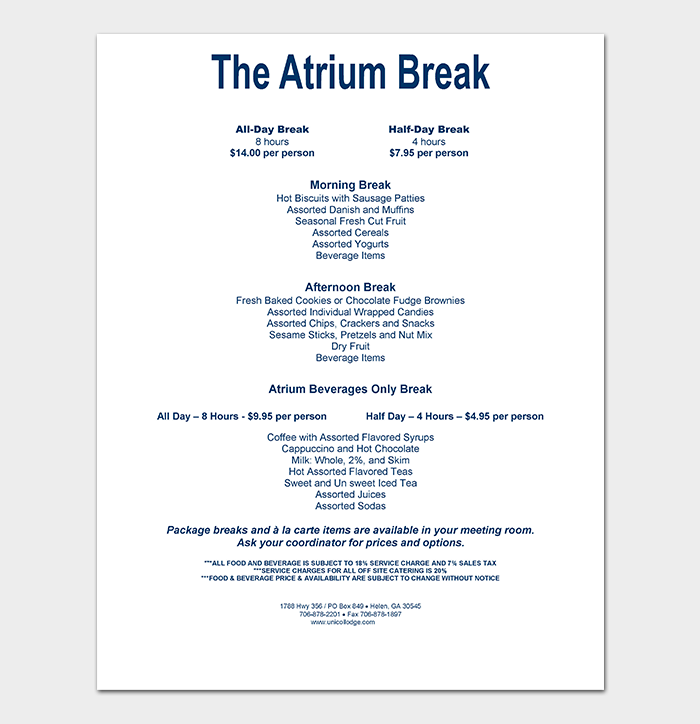 ---
Lunch Catering Menu
---
Catering Quote / Menu (Excel)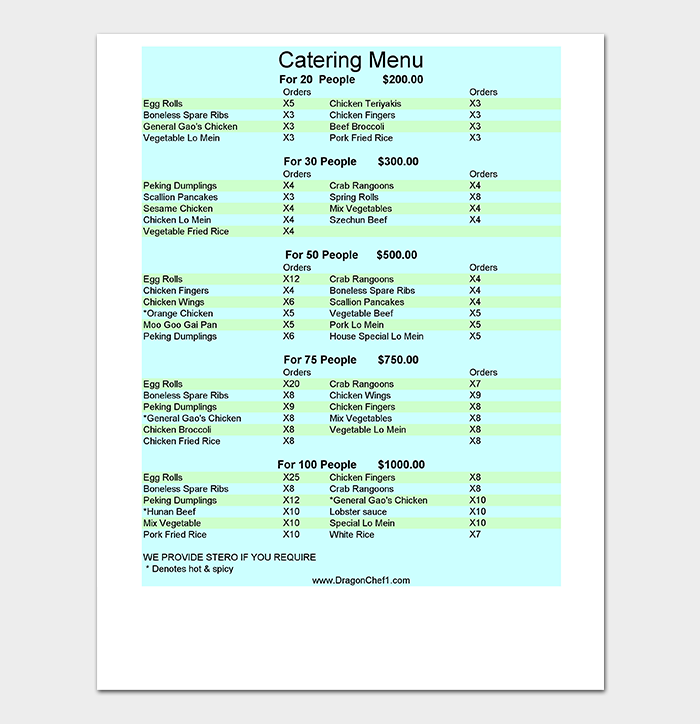 ---
Catering Banquet Menu
---
Catering Menu (PDF)
---
Breakfast Catering Menu
---
Sample Catering Menu
---
Catering Menu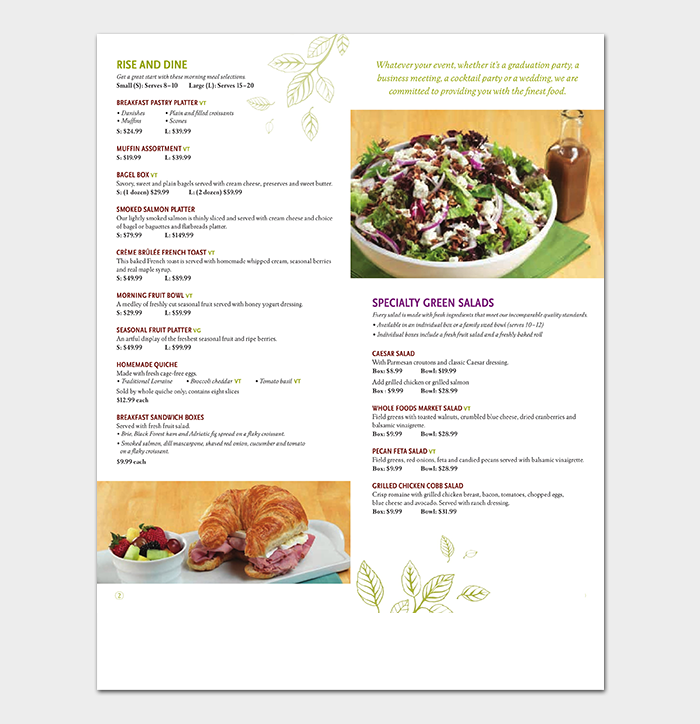 ---
Sample Catering Menu (PDF Format)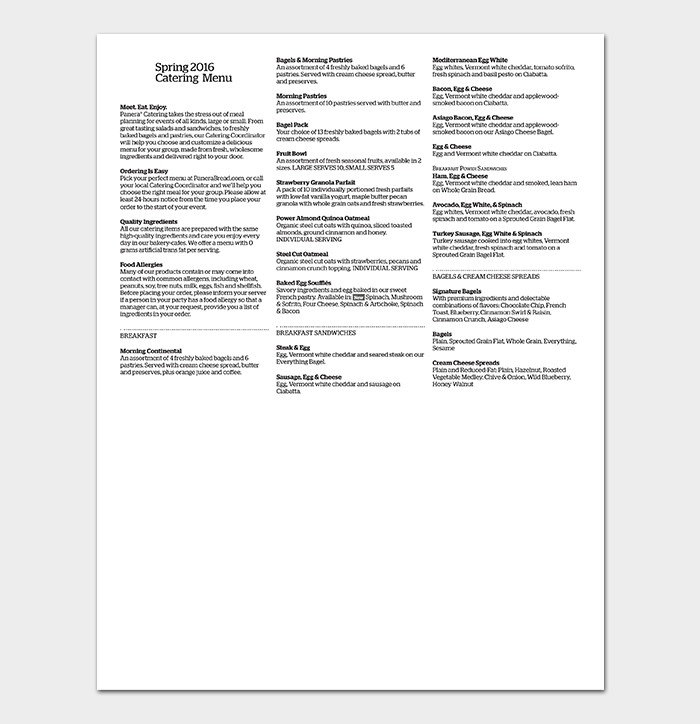 ---
Catering Cost Estimator Worksheet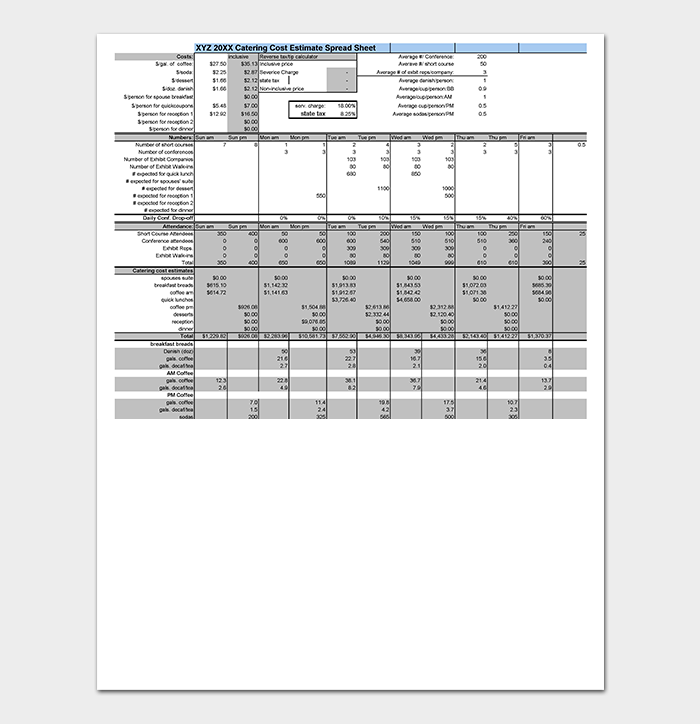 ---
Catering Service Price List Template (Excel)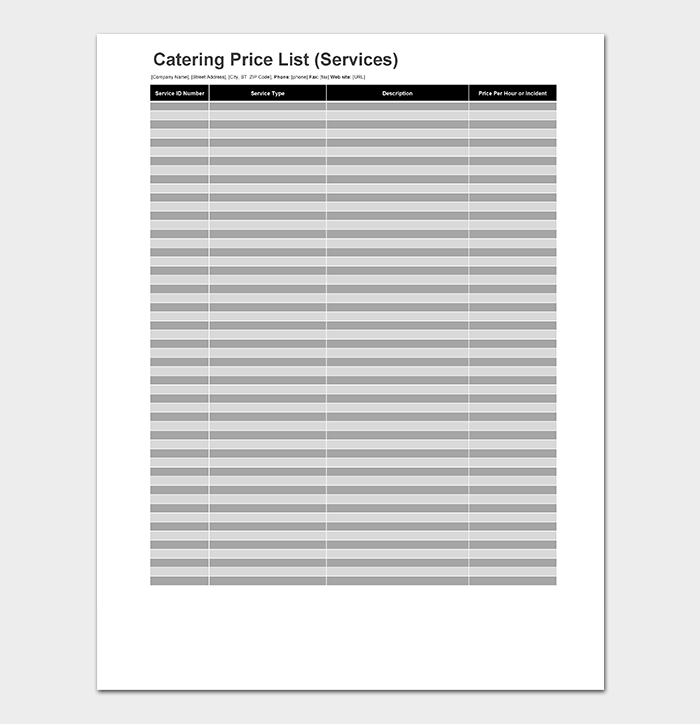 ---
How to Set the Catering Prices?
A potential client first looks at prices in a catering price list is the price. Therefore, it would make sense to start with the prices.
Now pricing can be a tricky matter. But if you get it right, you'll delight the customers, keep your cash flow happy and ensure you will be in the catering business for decades.
The preliminary step is determining the guest count. A rough estimate is the most wrong advice you'll receive. Attempt a laser-focused approach to estimating the number of guests, such as checking the RSVP.
The next step is knowing the type of food you are offering to your clients. Obviously, they want good food, but they do not really know what good food is until they taste it. This is where you have to dig into your cookbook and determine the dishes that delight everyone.
Note: Some clients may have specific food intolerances. It is crucial to get the specifics to avoid allergic reactions at the event. Alternatively, you can choose 'safe foods' such as gluten-free and non-spicy foods.
Pricing is the trickiest part.
John of the Chateau de Venta hotel takes the wholesale cost of the foods, multiplies it by three, and determines the final price. John reasons that the ballooned prices will offset the cutlery, crockery, and other overhead costs.
A quick question: do you think Chateau de Venta makes catering profits?
Clarice of La Verne hotel takes the prices of each ingredient to the type of food she intends to offer. She divides the price by 0.35 to set a baseline price for charging. Clarice then adds the delivery fee, kitchenware, and other catering costs into the pricing list.
The difference between John's cookie-cutter approach and Clarice's methodological approach is that Clarice registers higher profit margins than John.
Don't be like John.
You have two pricing systems to choose from. Tiered pricing, where the total cost subsides as the number of guests increases, and fixed pricing, where the price remains constant.
Now you want to adopt Clere's method. Use an ingredient-based price system with tiered pricing to determine your overall cost. Ensure you get the correct market prices and factor in waste, ideally 10%.
Note: A sit-down catering service is more costly than a buffet-style catering. You have to consider the catering your client wants and incorporate the prices into your pricing model.
Now that we've cleared pricing, you can factor in the other costs.
Supplies can create the markup you need for profitability. Now you can't charge $800 for a platter of sandwiches. But you can charge $320 for the platter, $200 for kitchenware and custom cutlery, $100 for uniforms, and $299 for dessert and drinks. You get slightly higher prices, albeit low food prices.
Other costs you should genuinely consider are labor, delivery, cake cutting fees, equipment leases, uniform costs, unique desserts, and place card costs. You may have other parties handling some of the expenses for a mega-event. It is essential to sit down with the client and determine the scope of your catering services before preparing the list.
In addition to the standard prices, you have to consider fuel, timing, washing services, refrigerators, and a thousand and one checklist items. Factor in the costs for covering the accompanying expenses. As a wise caterer, your food prices will cover the cost of other miscellaneous expenses, such as purchasing an extra bag of salt.
Include any extra fees in the price list draft. Notify the client what the fees cover, whether cake cutting or custom decorations. Sum up the costs from food prices and labor to extra charges. Take the total sum and finalize your draft.
Before you send your client the final catering sheet, compare the market rates for your services. Prices vary considerably across different caterers. Obtain an average to ensure you get value for what you offer to your clients.
Outlook
The catering business has cutthroat competition. A catering price list determines whether you will continue to be in business or close shop. Your catering price list should do more than just notify your client of the prices. It should serve as an introduction and marketing tool for your business. While preparing your price list, keep this in mind and have your customers at hello.